Val Daone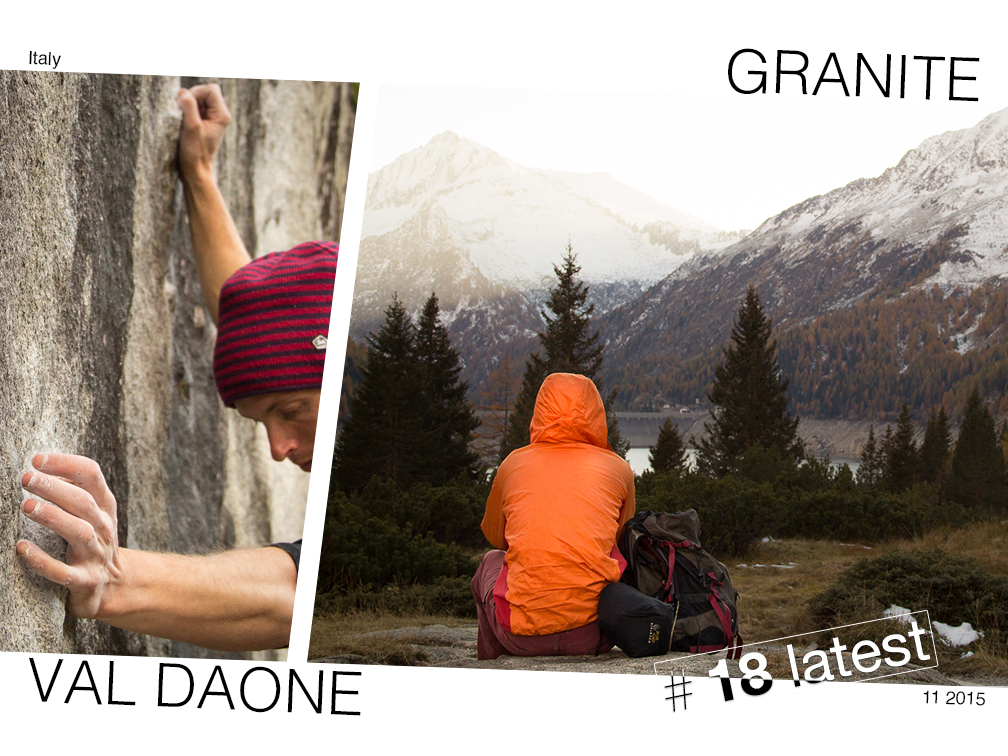 Two weeks ago when Elias Umundum and I left for Val Daone I really didn't know what to expect. I have heard a lot about the granite boulders south of the Adamello-Massif but I didn't have a clear picture in mind. High rock quality, many problems, a new guidebook published in 2015 and liberal camping regulations seemed to be the basic prerequisites for a successful trip.
Upon arrival fresh mountain air caused a thrill of anticipation and we were eager to lay our hands on the rock. Unfortunately we woke up to a light drizzle the next morning and we had to wait for better conditions. But there is no disadvantage without benefit and we used the time to explore the different sectors along the river Chiese. It didn't take too long to realize the enormous potential of the area although only a fractional amount of the published boulders are worth mentioning. Hiking through the woods looking at daunting lines made our fingers sweat. I didn't watch any videos beforehand which made the element of surprise even bigger.
Trying to figure out the beta of the boulders without assistance proved to be the most enjoyable part of the trip. We were lucky enough to climb three days in perfect conditions. Good friction is needed for the majority of the problems due to their slopy nature. Val Daone is for sure no summer destination, especially if you want to try something close to your limit. The grading in the valley is known to be quite tough, which is true for some lines. But in general the grades turned out to be appropriate as long as the right beta was used and the temperature was low.
If I had to highlight two problems it would be Nimbus 2000, a five meter high 7A kingline on bullet-proof rock with a tricky finish, and the powerful Ziri, a 7C+ up in the highest sector Nudole. For all the dyno lovers Sweet Emotion 7C is also worth a visit (photo of me by Elias). Besides that there are hundreds of fun lines spread along the road.
On the rest day we chose to hike up to the head of the valley for stunning views of the snowcapped mountains. The autumn sun and the larches' bright orange hues along the trail increased our good mood even further. All in all our short stay was the perfect start of the bouldering season.